Corporation Primary School
This used to be Corporation Primary School. I was very sad at first when I saw Corporation Primary School no longer here. This is now Grace Orchard School.
Walking to St Joseph's Home, I saw
Corporation Primary School
. I was so happy. Corporation Primary School was not my school, but it was my brother's and my niece and nephews' school. It contains many sweet memories.
As usual, I am always very interested in school crest. The
school crest
bears the motto
'Be Diligent and Helpful
', believing that diligent pupils know their work well and should always help those who need assistance. At the top of the crest is a
book of knowledge
and the
educational torch
is a beacon of truth and light.
Colour significance:
-
White
signifies
everlasting purity and honesty
.
-
Green
signifies
youthful vigour
in our pupils.
-
Orange
signifies
alertness
in our pupils' minds.
Corporation Primary School is just opposite St Joseph's Home. It looked so new, so nice, at this new location, Jurong West St 24. On that day when I visited the place, the school was closed. However, it gave me a nice feeling, a very 'welcome' sense of sensation -- standing at the guard post, I felt very 'warm-feeling' with the teachers standing (the poster) to welcome you. Painted with yellow and orange, it gave me a feeling of cheerfulness and brightness of life. In addition, the place is so serene, so quiet.
Something very good about Corporation Primary School is their timing and their 'Merged Stream'. Corporation Primary School starts at
8.00am
and operates as a single session school. This is so good, both for teachers and students, and parents.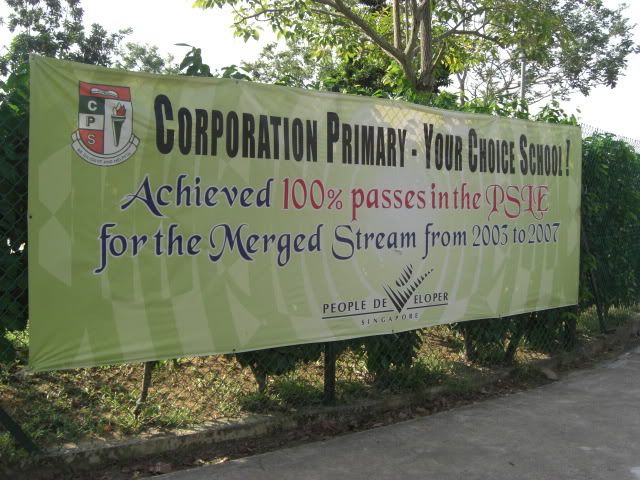 Corporation Primary School... achieved 100% Passes in PSLE -- Your Choice School!
Parents who intend to enrol their children in Primary School can really consider Corporation Primary School, really looked so impressive, especially with Merged Stream... 100% Passes in PSLE ! I am worried about my children's PSLE, never even heard of Merged Stream at QiHua Primary School.
Labels: first choice school, heritage school, jurong west school, school in boon lay, single session school